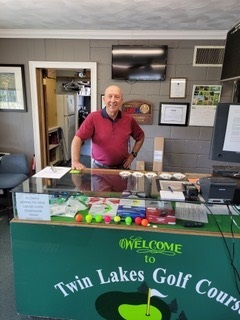 Welcome our new Pro Shop manager for Twin Lakes Golf Couse,
David Thompson.

David and his wife, Ann, come to us from sunny Florida and now reside in the Cranfield area. He has years of experience as a certified golf instructor, certified custom club fitter and highly skilled in club repair.
Whether you need changing grips, replacing broken shafts, loft and lie adjustments or simply wanting to replace an existing shaft with a different one, it is no problem.
In his instruction and custom club fitting he utilizes high tech electronic swing analysis equipment to help golfers better understand their golf swing. He can also use video analysis to assist in his instruction.
He is willing to teach all skill levels: men, women and children. Through his instruction, he tries to simplify the golf swing for the everyday golfer, working with their natural tendencies, which makes the adjustments easier to adapt to.
David's goal is to help the golfer to have fun and become a better ball striker.

So please come by and say hello, he is looking forward to meeting you!